Skiing and paragliding are 2 sports that can be combined together... For twice the fun...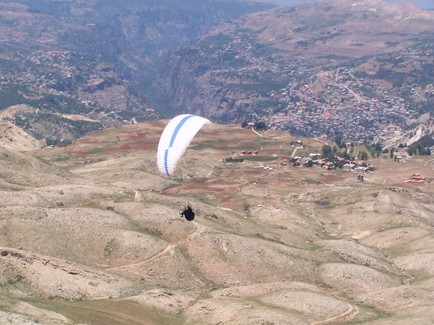 Paragliding is not only a summer sport, but a winter sport as well. Paragliding in Lebanon can be practiced both on the ski slopes and on foot launched sites during the winter time, making the winter a great time to enjoy the outdoor and have a great time.

---

- We fly every day in the spring and summer times so we can accommodate requests in as short as 1 day. For groups of 4 or more we request a 2 days notice. In the fall and winter, we fly every weekend either on the winter site (Meziara) or on skis on the Cedars skiing slopes if it is ski-able. Please notify us before the weekend.
- Expect to be at the Cedars (or Meziara in the winter) by 10 a.m. the day of your booking this way you can take advantage of the best flying time of the day.


- Bring sturdy footwear. Hiking and outdoor shoes like Timberland's are ideal, and please no sandals or light footwear.
- Even in the summer time, please wear long pants (jeans are perfect) and bring a sweater or a long-sleeve shirt. Remember, the top take-off is at 2900 meters at the highest peaks in the Middle-East, so it might get chilly, even in the dead heat of the summer.

- Don't forget your camera. In a tandem flight, you will be sitting in the front and the instructor will be sitting behind you, so your vision is not obstructed and your hands in the air will be free and you can take as many pictures as you like.
- If you have a fear of heights, hurry-up and book your flight. Paragliding is the best way to conquer your fear.

You can book your flights on-line using our booking tool below. No pre-payment is required, but please do not book and reserve a slot unless you are 100% sure you can make it. Enter your name, e-mail and phone number, as well as the number of people in your group. The days with availability are shown below. Make sure to call us the morning of your booking by 8 a.m. to check the weather and if the day is flyable. Summer days are usually always flyable, but it is better to call and check.

---