The ONLY accredited paragliding school in the Middle East.
Graduating students may receive, upon request, a pilot certificate and rating issued by the United States Hangliding and Paragliding Association (USHPA).
Paragliding in Lebanon is very popular and paragliding is the best outdoor adventure sport in Lebanon.
Cedars Paragliding school, the number one paragliding school in Lebanon since 1992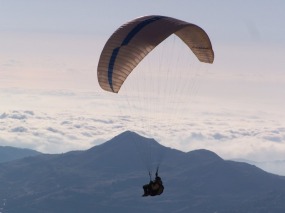 Since 1992, the Cedars Paragliding school has been providing tandem flights and paragliding lessons to many paragliding enthusiasts. Based in the Cedars, north Lebanon, we operate all year long using summer and winter sites. If you are living in Lebanon or visiting, make sure to try paragliding. Make a reservation for a
tandem flight
and fly with one of our qualified instructors; it will be an experience of a lifetime. Paragliding is a very exciting sport and is accessible to absolutely everyone.
---
- Paragliding is the most accessible aerial sport. The cruising speed of a paraglider is around 35 km/h which makes it very easy to launch and land almost anywhere. It is one of the safest aerial sports as well.
- Paragliding is a safe sport as long as you follow the rules and respect the weather conditions. You have a much bigger chance of getting hurt driving to the paragliding site than flying a paraglider.

- Paragliding in Lebanon started in the early 90s with the boom of paragliding in the world and remains the most thrilling outdoor adventure sport in Lebanon.
- Paragliding is primarily a mountain sport. Paragliding may be practiced on cliffs by the sea or in flat plains, but the best paragliding sites are the high mountain sites.

- God has blessed Lebanon with gorgeous mountains, stable summer weather, and 300 days of sun a year which makes it an ideal place to practice paragliding.
- The Cedars paragliding site, above the biblical Cedars of Lebanon, is the best paragliding site in Lebanon for tandem flights and paragliding lessons. The top take-off is at 2900m at one of the highest peaks in the Middle East.
| | |
| --- | --- |
| | - The Cedars area is a very culturally rich area too. In addition to enjoying paragliding, you can visit the Gibran Khalil Gibran Museum which contains over 600 paintings and Khalil Gibran's tomb. You can also visit the legendary Cedars forest, the Quadisha grotto, the Quadisha valley with its old monasteries and breathtaking waterfalls, and many other touristic attractions. If you just want to relax, you can enjoy a delicious meal at the Youn-Orghosh resort. |
- The Cedars area is a 2 hours drive from Beirut and 1 hour drive from Tripoli. You can come to the Cedars on a day trip or spend a couple of days in the area. Hotels are plentiful and vary from budget hotels to 4 stars hotels. We can assist you finding and booking an accommodation that meets your budget, please

contact us

.
- If you are spending a couple of days in the area,

contact us

so we can arrange other activities for you like rope descent (rappel), ATV off-road, bicycling or hiking.

- Paragliding is the star of all the sports in Lebanon. Try it today by booking a

duo (or tandem) flight

. It will definitly become your new hobby.
---
---
---