Our Price List For The 2017 Season
Tandem Flight With An Instructor :





Pilot Training Program :


Paragliding gear for a new pilot :



Shuttle bus from landing to take-off :

$ Special offer for the 2017 season: Please contact us

$1,500 USD (includes the initiation and progression training programs)


Price varies. Estimated cost for basic gear $2,500 - $4,000 USD


$3 USD for the 'Intermediate' take off and $4 USD for the 'Top' take off

.

Why us?

Because we will spare no effort in making your experience a memorable one ...


Like many things in life, choosing a paragliding school for a tandem flight or for learning paragliding requires some education in order to make an adequate choice.

When choosing a paragliding school, there are simple things you can check for to make sure you are getting the highest level of service:

1- Look for a reputable school

Since paragliding in Lebanon is not regulated, anyone can borrow a tandem paraglider and claim to be a tandem professional. Don't be fooled. Use common sense. Ask the following questions:
- How long has the school been established?
Cedars Paragliding school has been established since 1992.
- Does this school have several instructors?
Cedars Paragliding school has 4 full-time instructors and 2 seasonal instructors. We live, eat, drink and breathe paragliding.
- What kind of equipment do you use? Are they equipped for safety like harnesses with airbags?
Cedars Paragliding school offers the best and safest equipment on the market. We are the sole distributors of Sup'Air who makes the best harnesses for students and tandem flights, and we use their most recent products.


2- Go with a school that does not compromise on your safety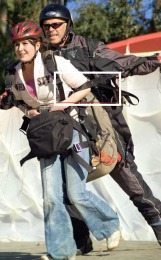 Take this very simple example that shows how important proper safety gear is: When taking off for a tandem flight, the passenger's hands will be tucked-in behind the separators. Look at the picture on the left how the passenger's hands (the girl in the front) are forced behind the separators. This is a necessary flight position for take-off, but if the passenger slips on a pebble or a small stone, he/she will not be able to protect his/her face with his/her hands. Therefore using a full-face helmet is obviously crucial. Although this sounds basic, many schools use open-face helmets simply because they are much cheaper. Do not choose a school that will compromise on your safety.

---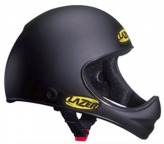 We use full safety gear for our tandem flights and our paragliding students. We only use Lazer full-face paragliding helmets for all our customers on tandem flights

---
3- Go with a school that is committed to offering the best service and the best products at the best price


Paragliding is an aerial sport for everyone, and we are committed to making it affordable to everyone as well. At Cedars Paragliding school we offer the best prices for tandem flights, paragliding lessons and paragliding gear. Our goal is indeed to provide the best service and the best products at the best price.
---